RESIDENTIAL ROOFING

EXTERIOR SERVICES

WINDOW INSTALLATION

STORM DAMAGE SERVICES
INTERIOR & EXTERIOR PAINTING
ESTIMATES
Thank you for contacting Clear Point Construction, Inc., a representative will contact you shortly.
WELCOME TO CLEAR POINT CONSTRUCTION
For years, Clear Point Construction, Inc. has been providing roofing and exterior services in all of Minnesota.

We are certified, insured and bonded. We specialize in residential, commercial roofing and exterior services.

Our residential roofing and exterior technicians are certified and trained in all the latest techniques and products. This knowledge sets us apart from other fly by night roofing and exterior companies who are less educated and take chances with your home. Don't let your home be their education.

With over 20 years of experience and an"APlus" rating with the Better Business Bureau, The Choice is Clear!

Our website is designed to allow you to qualify our company, research services and review products and warranty options before you even contact us. This pre-selection process saves time and provides our estimators and Clear Point Construction, Inc. home assistance specialists the information needed for your initial quote.

Quick Tip - Print or save copies of our warranty information for your personal records. Even if you don't do business with us, keep them as a standard to hold against other contractors being considered.
RESIDENTIAL ROOFING SERVICES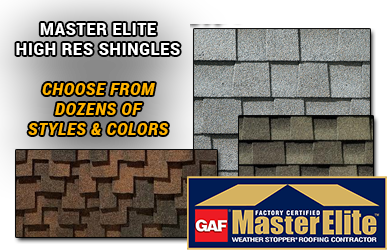 WE ARE GAF MASTER ELITE
ROOFING CONTRACTORS
THIS DISTINCTION IS ONLY GIVEN TO
6% OF CONTRACTORS NATIONWIDE
STORM DAMAGE
HAVE YOU EXPERIENCE DAMAGE FROM A RECENT STORM?