Roofing in Alexandria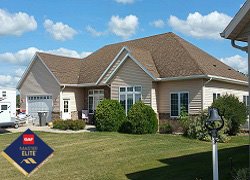 A lot of roofing systems fail earlier than they should. No, we are not talking about things like hail and storm damage, or a large tree falling on top of your roof. The most common problems that lead to early failure are neglecting to perform necessary inspections and repairs when needed with a top-rated Alexandria roofing company, and improper installation. The strength and durability of the roofing materials will quickly lose their value if they are installed poorly. Your roof will inevitably require more maintenance, and possibly even a full replacement and other construction repairs to correct the problem depending on how poor the craftsmanship was.
How Do You Avoid a Costly and Inconvenient Situation Like This?
The Answer is Simple, Hire a Trustworthy Roofing Contractor in Alexandria That Has a Proven Reputation for Quality!!!
Think about it What is the first thing that is going to defend your home from the Minnesota elements? Your roof, of course, and the last thing you want is just any old handyman installing or making repairs to it. Time and time again we hear about horror stories of a homeowner trying to save a few bucks by hiring an inexperienced contractor and they end up with more problems and money out of their wallet at the end of the day then they should have. You do not want to be a part of that statistic.
Clear Point Construction is Your Reliable Roof repair in Alexandria for Expert Residential Roofing Services, Every Time!!!
Why Should You Choose Our Construction Company?
Our roofing and exterior specialists are devoted to excellence through continuous in-house training and annual attendance at manufacturer seminars to ensure safety, proper application, and new product knowledge. We have worked extremely hard to earn the GAF Master Elite Certification which is only presented to the top 2% of all roofing contractors in the nation. We won this prestigious award by proving our dedication to excellence in the following areas:
A proven track record for outstanding craftsmanship throughout the community

Outstanding customer service

Fully Licensed in the state of Minnesota

Adequate insurance coverage for your complete protection
The Best and Safest Decision is to Hire a GAF Factory-Certified Alexandria Roofing Contractor!!!
We suggest that you have your roof inspected at least once a year and after any severe weather that your home is subjected to. The best two seasons to do this are in the spring and fall but any time of the year is better than no time! While you can do this yourself, it is better to have the eyes of an experienced professional roofer in Alexandria thoroughly examine it for you. We offer FREE INSPECTIONS AND ESTIMATES so you have absolutely nothing to lose.
We Are Storm Damage Specialists!!!
If your home ever experiences damage from a heavy storm at any point throughout the year, you can count on our storm damage specialists to quickly make your home safe again the first time. We have a claims specialist within our staff to assist you along the way with the insurance process and work hard to help you get the most out of the monthly premium you pay.
CALL CLEAR POINT CONSTRUCTION NOW AT (736) 276-1655
For many years, we have been providing premier roofing and exterior services throughout Minnesota. With over 20 years of industry experience and an A+ rating with the Beter Business Bureau as an accredited business, the choice is clear who you should hire for your next roofing, siding, windows, and gutters renovation project in Otsego.