Steel siding offers the protection you need.
Protect your home from weather extremes without compromising beauty. Rollex steel siding is the most durable siding product on the market, offering an oven-fused PVC finish that protects against dents and scratches, tighter seamsand a more rigid make-up that stays true to form without buckling or warping, and our non-fade colors for lasting beauty. Steel siding is also green and safe for the environment. Rollex steel siding is 100% recyclable, extremely durable and safe to install. Plus, steel products dont produce the cancer-causing silica dust produced by fiber cement products. Steel siding offers the protection you need with a maintenance-free, natural looking wood-grain finish in your choice of 16 designer colors.You can have total confidence in your Rollex purchase with our limited lifetime warranty.
Why Steel Siding?
Less Visible Seams
Steel siding has better, tighter seams that don't stand out as much as fiber cement and vinyl siding products. Tighter seams provide a more aesthetically pleasing exterior as well as better insulation. During high winds wider gaped siding allows gusts to penetrate behind the panels causing it to tear off the home.Wider gaped seams are also a breeding ground for insect infestation and water infiltration.
---
Steel Siding is More Rigid
Steel siding is more rigid so it lays flatter against the exterior walls, hiding any imperfections and providing a beautiful finish to your home.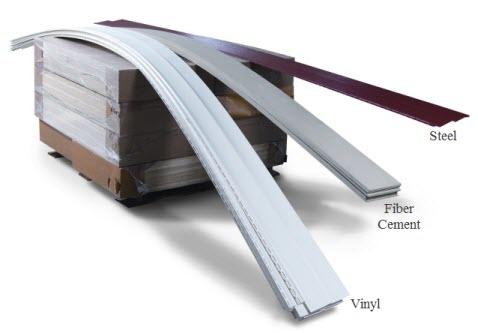 ---
---
Rollex Steel Siding Options:
Go Back